8 Servings 10 minutes
These are super simple and really fun for kids to make. You can roll them through cocoa powder, smoked chipotle or paprika, coconut flakes or whatever you can come up with. I mix up the types of nuts used – Pecan/Walnut or Almond/Cashew/Brazil Nut
Just a couple of ingredients make this super simple dessert or snack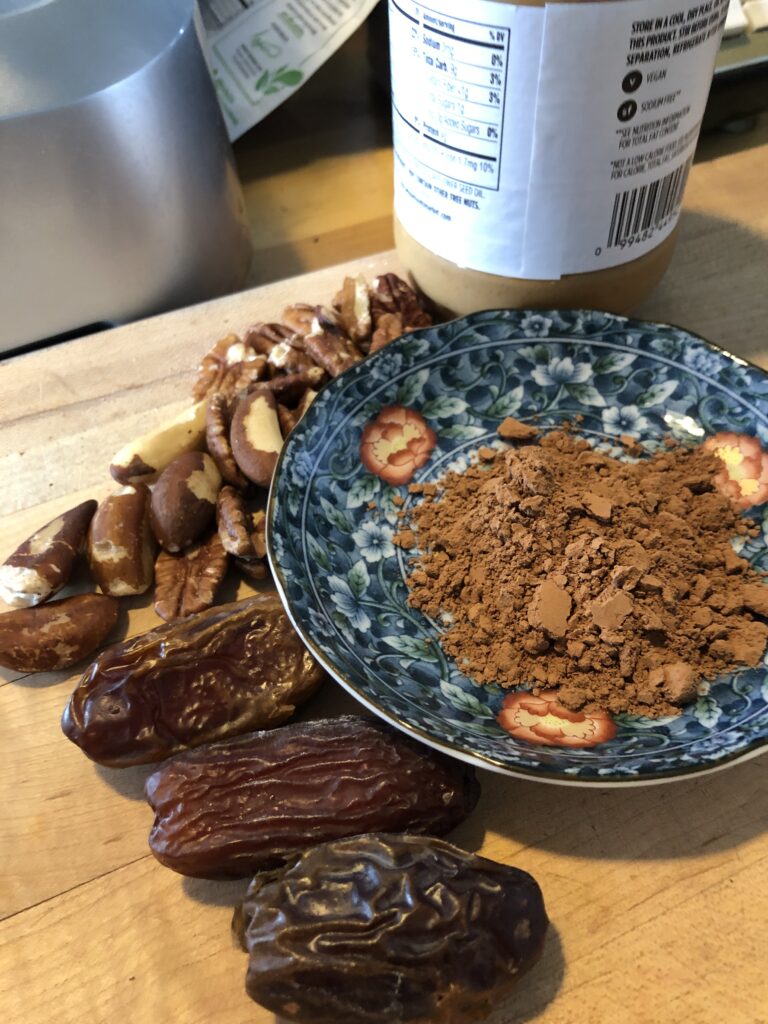 This is it. The only thing to watch is pulsing the nuts too much and they become closer to nut butter than minced nuts.
Nutty Cocoa Nibbles
Ingredients
1/2 cup raw almonds
¼ cup nut butter
2 tablespoons cocoa powder
1 tablespoon water [optional]
4 pitted dates
Options to roll them in:
Cocoa powder
Smoked chipotle
Shredded coconut
Sesame seeds
Directions
In a food processor or strong blender, process the almonds until they are a meal. You do not want to make any type of nut butter.
Add all other ingredients and process until they stick together like clay. This may take about 20-30 seconds. If your nibbles are not sticking together, add the water 1 teaspoon at a time and pulse.
Take a 1-2 inch pinch of the cocoa "clay" and roll into a ball.
Optional – Put the different ingredients – cocoa powder, smoked chipotle, etc. – in small bowls. Roll the cocoa balls whichever topping you like. Tap off excess powder or flakes.
Serve.
Note: Freeze in an airtight container for up to 6 months. Pecans give a more fudgy texture. Almonds give a crunchier texture.
Abbreviations: C = cup; oz = ounce; Tbsp = tablespoon; tsp = teaspoon
Copyright Marty Davey, 2014. All rights reserved.