Marty is an experienced, research dietitian with more than 3 decades assisting people like you with food and weight challenges. That means not only has she been helping clients to lose weight, decrease their A1cs, lower their cholesterol and lower their heart disease risk for almost 20 years, but in addition, she has been a senior research team member creating, implementing and evaluating the studies used to clarify what actually works.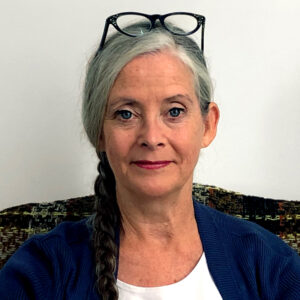 Marty started her dietetics career while a student earning her Masters' degree and Registered Dietitian certification. She joined a family weight management research project as a counselor. Three months into the first group of study participants, she was asked to become the study coordinator for the rest of the 3-year, Blue Ribbon study conducted at Marywood University in Scranton, Pennsylvania. Working with kids and parents to create healthier family eating habits, Marty realized she didn't want to treat a condition, she wanted to understand why unhealthy habits started and what were the keys to turn around a food connection challenge.
That experience led her to forging her own path as a professional and saying yes to many different venues and clients. For seven years she conducted nutrition assessments and taught cooking skills to teens in a lockdown facility in Philadelphia. She brought in her own power tools and built a school garden with the kids. That was Tuesdays. Fridays were spent working at The Lodge at Woodloch, a 5 star resort, conducting cooking demonstrations and consulting with the high-end guests on their nutrition connections. When the resort position ended, she filled in the blank with adjunct teaching of nutrition and nutrition management at a local college and became a team member on the Geico Study conducted by the Physicians Committee for Responsible Medicine.
The outcomes of that study, which was in conjunction with insurance company, Geico, had better outcomes for weight management, heart disease risk and type 2 diabetes biomarkers than the American Diabetes Association diet, the American Heart Association diet and the diets recommended by the Academy of Nutrition and Dietetics. The results of that study are published in the European Journal of Nutrition, August, 2011.
Most nutrition videos and cooking classes bored Marty. Great recipes, but where was the fun? Thus the launch of her YouTube channel, LaDiva Dietitian! LaDiva Dietitian eats a no-cholesterol diet to keep her "girl-ish figure." This dynamic personality led to Marty's first keynote presentation at the Pennsylvania Academy of Nutrition and Dietetics Annual Conference and has also presented on plant-based diets and how to start a private practice funded through medical insurance.
Her latest collaboration with nutrition research and individual care was with the University of South Carolina and the BrieLab. There she wrote the curriculum for the NEW Soul Study: a two-year intervention to lower heart disease risk in self-decribed African Americans and taught all of the classes. She created cooking videos as well as wrote and produced a 36-episode scripted podcast. She then wrote the curriculum and adjunct teaching materials for another three studies, including the DG3D Study. This study focuses on type 2 diabetes biomarkers and nutrition.
Marty's nutrition acumen and success from participants from that study with her "no judgement" approach. Members of the team of kitchen assistants also wrote testimonials extolling her leadership skills on Marty Davey's LinkedIn page.
Marty has left the institutional world of research to work with people in her new neighborhood of Yonkers, New York and you. Her focus it to help prevent type 2 diabetes and heart disease as well as looking to work with those wanting to learn the latest strategies to prevent type 3 diabetes also known as dementia with the latest research available.
publications
Turner-McGreevy G, Wilcox S, Frongillo EA, Murphy A, Hutto B, Williams K, Crimarco A, Wilson M, Davey M. The Nutritious Eating with Soul (NEW Soul) Study: Study design and methods of a two-year randomized trial comparing culturally adapted soul food vegan vs. omnivorous diets among African American adults at risk for heart disease.. Epub 2019 Nov 16. PMID: 31743793; PMCID: PMC6952545.
Marian Botchway, PhD, Gabrielle M. Turner-McGrievy, PhD, Anthony Crimarco, PhD, Mary J. Wilson, MPH, Marty Davey, MS, Sara Wilcox, PhD, and Edward A. Frongillo, PhD "They Eat What They Eat, I Eat What I Eat": Examining the Perspectives and Experiences of African Americans Who Adopt Plant-Based Diets. American Journal of Lifestyle Medicine 0 10.1177/1559827620908850.
books & contributions
You're Not Dead, Yet: Nutrition for the Over 50 Crowd by Marty Davey
LaDiva Dietitian's Farmers Market Recipes by Marty Davey, 2016, second edition
The Main Street Vegan Academy Cookbook: Over 100 Plant-Sourced Recipes Plus Practical Tips for the Healthiest, Most Compassionate You by Victoria Moran and JL Fields, 2017
professional memberships
Academy of Nutrition and Dietetics,  2007 – Present
Vegetarian Nutrition Dietetic Practice Group,  2007 – Present
Dietitians in Integrative and Functional Medicine,  June 2016 – Present
SAG/AFTRA/Actors Equity, 1988 – 2017